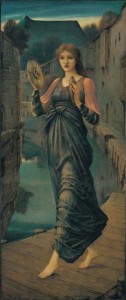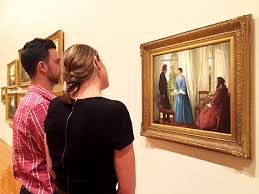 A few years ago I met with my writing mentor at the State Library to discuss how one goes about writing a first novel. After the meeting I took the opportunity to go next door to the Queensland Art Gallery.
I wandered about the quiet echo-y space; the only other person in the room of Australian paintings at that time was an elderly man. We got to talking and he told me he'd visited the gallery, in particular the Australian paintings, every year since it had moved into the current building in 1982. Over the years he had come to feel like he was visiting old friends.
I was still thinking about the words that man had said to me when the painting, Aurora, by Burne-Jones caught my eye. Ah, I thought, here is an old friend, I should stop by and say hello. And I did. And while I was standing there I wondered if my niece (whose name is also Aurora) knew there was such a beautiful painting that shared her name? I went straight to the Gallery shop and bought a postcard of the painting to send to her.
On the train ride home, it was clear that the main character of this novel was going to be named Aurora and she had been named by her father (an artist) after this particular painting.